Sir Raleigh Electric specializes in the design and installation of state-of-the-art, integrated video surveillance systems that help businesses like yours prevent losses and provide 24/7 protection from burglary and vandalism.
CCTV System Selection and Video Surveillance
Our expertise includes working with all major closed-circuit television (CCTV) surveillance and access control system brands and manufacturers. We constantly follow the latest, cutting-edge technologies to hit the market and offer guidance and services related to:
Camera features and selection – static, PTZ and fully functional domes; PIR and WDR cameras, as well as audio capabilities
Camera wiring, placement and monitoring – strategic installation planning for maximum coverage; station/control room and remote monitoring
Network Digital Video Recording (NDVR) options and installation – save time and money with DVR by eliminating cassettes and increasing storage capacity while having access to multi-camera viewing
System integration – customized security solutions that combine advanced motion detection with point-of-sale software and integrate with access control and intrusion detection security systems
Full range of IP and Megapixel cameras and services
Comprehensive Business CCTV Surveillance Solutions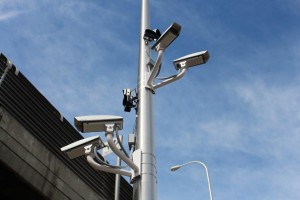 From project planning, camera wiring and cable installation to system testing and customer training, Sir Raleigh Electric will work with you to design the most efficient, cost-effective CCTV surveillance system to meet your company's budget on a contract or sub-contract basis. We specialize in all aspects of CCTV installation, maintenance and repair, and we offer full services for setting up a brand-new system or upgrading and integrating an existing one.
Contact Sir Raleigh Electric for all your security camera and CCTV needs.