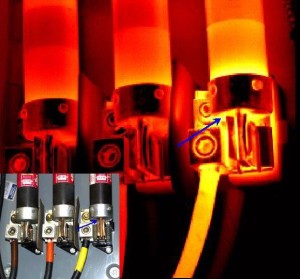 Sir Raleigh Electric's Service Division utilizes infrared imaging systems with powerful software to provide a fast and effective means of identifying potential problems in electrical and mechanical equipment, refractory, and insulation materials. Understanding that it is critical to uncover serious problems before causing downtime, we track operating conditions and quickly identify changes in performance. We also offer an infrared imaging service that can be included in a service contract or performed as a stand-alone service.
Using a thermal imager on all mechanical, electrical and process equipment reduces emergency repair costs. Performance of routine infrared imaging will identify abnormal cooling and heating of equipment. The sooner damaged equipment is discovered, the less likely a malfunction will create an emergency situation with extensive repair costs.
We can test equipment without disturbing processes, which translates to lower costs, increased productivity and reduced risk for our customers.
Benefits to using an infrared imaging preventive maintenance program include:
identifying electronic hot spots
discovering faulty terminations in high power electrical circuits
identifying overloaded circuit breakers in power panels
finding problems in switchgear.
Thermography is also cost and time-effective, offering these advantages:
a non-contact, non-destructive means of testing
reducing downtime
eliminating unnecessary work
reducing unnecessary material expenses
avoiding catastrophic failures
directing maintenance to the root of the problem
Our thermographic services include:
annual inspections
testing and documentations
amp-probing
insurance inspections
energy conservation
Contact Sir Raleigh Electric today! We'd love to help you with your imaging needs!